The new ShareBase Search allows you to find documents anywhere in ShareBase. It does not matter if documents have been shared with you, placed in a corporate library, or misplaced somewhere in your My Files; ShareBase Search will find the files you need. You can search documents by text in a file, file name, tags, file type, and the creator of the document.
Once the search results are returned, you can continue to refine the search with additional filters or sort the results by file type, file name, file creator, or date the file was created.
At the moment ShareBase Search is available, all existing documents will be ready and available for searching. ShareBase Search processes and updates how it searches for files every time a file is uploaded, edited, or new shares are given on a file in ShareBase.
ShareBase Search allows you to search for any document in ShareBase based on the file title, creator and date created. In addition, ShareBase will allow you to search the text for a document type that is in the included in the list below:
Word (doc/docx)
Excel (xls/xlsx)
PowerPoint (ppt/pptx)
Adobe PDF (pdf)
Text (txt)
Rich Text Format (rtf)
Mail Message (msg)
Searching

To Search, click in the Search bar at the top of the page. You can instantly filter your search request by including a file type or tag and clicking on it from the dropdown.

You can also start typing to display tags on your documents and users names of the creators of the documents. To search for files, just type in the search bar.

Results
The search results will display the files that are most relevant to the search you provided. From the search results, you will be able to see the file type, file title, the creator of the file and the date the file was created. If the search terms provided are found within the file, the context within the file of that search term is displayed below the file title.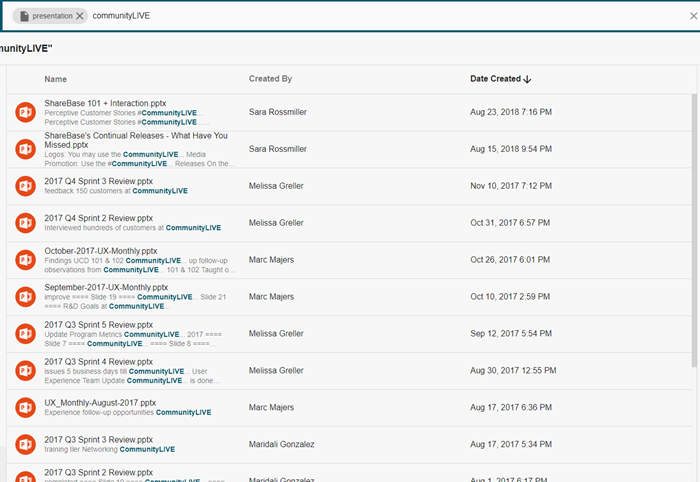 The order in which the documents are displayed in the search results is based on a number of factors which include: the owner of the file, the file's title, text within that file and the date the file was created.
You can sort these results by the file type, file title, creator or date created.
If you did not find the documents you were expecting, the current search will stay active in the search bar. Click in the search bar to refine the search further by providing more search terms or filter by tags or file type.
For questions about ShareBase Search, please contact us at [email protected].