For most organizations, half of all invoices still arrive as paper while the rest arrive via email and electronic data interchange (EDI). Without invoice scanning software, many AP departments are still bogged down by manual data entry, stacks of paperwork, lost invoices and a lack of visibility into invoice processing. All of this manual effort can lead to miss-keying data and human errors that delay the invoice cycle and cause duplicate work. Invoice scanning software enables the centralized capture of documents to reduce the manual handling of invoices so they can be processed accurately in a fraction of the time.
No matter how invoices arrive — by fax, mail, email, EDI, etc. — invoice scanning software solutions by Hyland capture invoices electronically using invoice optical character recognition (OCR) or intelligent capture technology to speed the invoice cycle and remove risks associated with manual data entry. With more accurate information being sent to your ERP, you are better equipped to make key financial decisions.
Electronic invoice capture benefits
Invoice OCR and intelligent capture technology reduce manual touch points, save time and allow you to reallocate AP staff to focus on handling exceptions and customer or vendor service. The instant boost in productivity and transparency can help eliminate late and duplicate payments, too. OnBase invoice scanning software helps organizations:
Accelerate invoice cycle time
Increase the accuracy of invoice data
Reduce AP processing costs
Eliminate late and duplicate payments
Reduce physical document storage costs
How does invoice scanning work?
Invoice scanning software from Hyland does much more than digitize paper documents.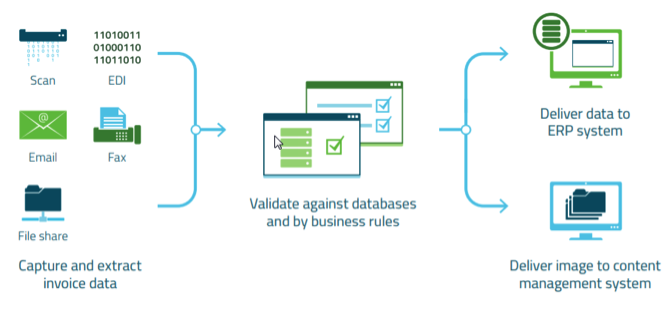 Hyland invoice scanning:
Extracts line-item details from the invoice
Automatically verifies purchase order and vendor information with data from the ERP
Delivers the invoice images and data directly to your accounting, ERP and content management systems
It's important to find the invoice scanning solution that meets your organization's unique needs:
Invoice OCR accelerates invoice processing by searching for specific keywords on an invoice and remembering the location of that data for each vendor invoice. This speeds the process the next time an invoice arrives from that same vendor.
Intelligent data capture for invoices provides data extraction without requiring templates, minimizing configuration time. Both offer significant benefits by eliminating bottlenecks associated with manual processing.
Ready to replace manual data entry with faster invoice processing? Contact us today to learn more about AP automation with Hyland.