Hyland Cloud Content Services and Cloud Management Services
Eliminate costly and time-consuming cloud management concerns
When your organization makes the choice to use the Hyland Cloud for its cloud content services and cloud management services, it's saying 'yes' to a lot of things.
Security. Digital transformation. Increased accessibility for employees and customers.
And, importantly: Complete service, delivered simply.
As a Hyland Cloud customer, your organization's adoption of the Software as a Service (SaaS) model for cloud delivery gives you real benefits that lean heavily on the "service" part of SaaS.
Service in the future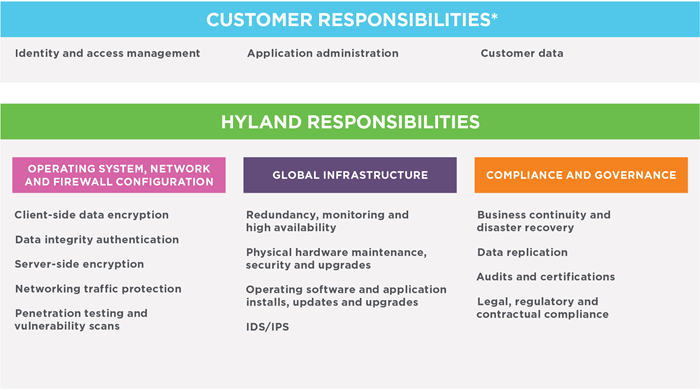 While your organization retains responsibility for solution management activities such as configuration modifications (unless you are also a Managed Services customer), Hyland takes care of everything related to the cloud and how your cloud content services and cloud management services perform. No more complicated explanations or justifications related to digital safeguarding, niche employee hires or infrastructure capability discussions – just your team focused on what matters: Its mission.
Hyland's cloud and digital transformation experts designed the Hyland Cloud to be the most seamless, comprehensive experience for customers of Hyland solutions. It's expertly tailored to your needs, with all the benefits of cutting-edge technology and none of the headaches.
Most importantly, the Hyland Cloud is the future of Hyland's content services platforms, and that future includes unparalleled service to our customers.
Specially recruited personnel monitor your content
We recruit the best people to administer the Hyland Cloud. Not just the best in the area, or the best in our price range. The best – period. As a technology enterprise, we understand we can only deliver great technology and great service when we invest in great people. Our cloud team is highly trained in:
Governance
Risk
Compliance
Security
Network and infrastructure
Operations and support
Database and data services
Everyone that administers the Hyland Cloud is specially credentialed and certified. They go through additional background checks that are even more rigorous than those required by standard Hyland procedure. This way, they can provide service to accounts with highly sensitive data that is subject to stringent compliance regulations, including HIPAA.
Essential monitoring 24/7/365
Hyland Cloud specialists are responsible for keeping your cloud environment safe, secure and running every second of every day, so your team can focus on what it needs to: Delivering results for your clients or customers.
The Hyland team is literally always monitoring all elements of the Hyland Cloud, so you can rest easy. We are considered essential workers, and even in challenging times, or on a national holiday, or in the middle of the night: we are awake. We proactively monitor to prevent problems or quickly identify and remedy them, including issues related to:
Disaster recovery
Power outages
Incident response
Intrusion attempts and cyber attacks
Simplified service with one call
The Hyland Cloud's SaaS model means we handle everything related to cloud infrastructure, and any time you have a question or an issue, you make one call to Hyland to get your answer.
You don't need to figure out who to call. We do that for you.
Need assurance your data will be recovered in a disaster?
Want to update your platform?
Ready to add server space?
Make a single call to Hyland. We'll get you to the right person to take care of it.
Learn more at Hyland.com/Cloud
Sixty-eight percent of business leaders say cloud deployment has the advantage over on-premises storage when it comes to software management, maintenance and upgrades. IDG