End-to-end records management automation
Digitizing the records life cycle from capture to NARA transfer
The 2022 deadline for NARA's M-19-21 electronic records mandate is fast approaching. To meet the deadline, federal agencies should turn to a proven records management solution that can automate and digitize the process from end to end.
In this encore presentation from Digital Government Institute, experts from Hyland and Amazon Web Services (AWS) discuss how a cloud-native content services platform and artificial intelligence tools can automatically capture, declare, and securely transfer records to NARA using business rules and metadata — with little to no user action involved.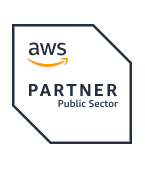 Watch to discover how Hyland and AWS have partnered to deliver a complete solution across the records life cycle for increased compliance, efficiencies, and productivity.
Register now to watch on demand