2021 VIRTUAL HYLAND HACKATHON
We're excited to invite high school and college students to spend a weekend participating in our first completely virtual Hyland Hackathon March 13-14, 2021!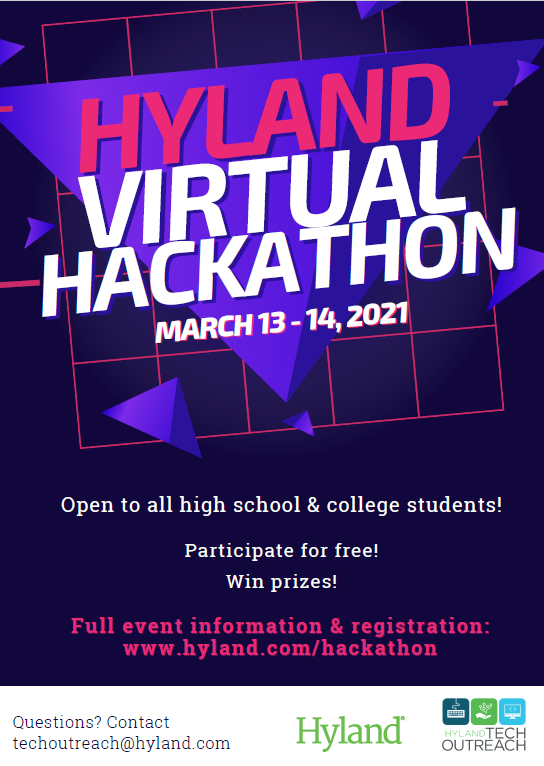 Are you a student who loves tech? Whether you're a seasoned hacker or a curious beginner, we're looking for creative thinkers with a passion for innovation to join us for the 2021 Virtual Hyland Hackathon. This event will take place entirely online, with Zoom Webinar being used periodically throughout the event.

If you've never been to a hackathon before, we encourage you to read up on these kinds of events before participating. Experienced IT Professionals will be available to help mentor you throughout the hackathon.

High School and College teams will be judged separately as two main groups. There will be prizes for the top teams from each group.

There will be an optional theme for teams to follow. This allows for teams to utilize the theme if wanted with their projects, but there will be no penalty for not following the theme. There will be Hyland Mentors on hand to help with idea generation and brainstorming.

REGISTRATION IS NOW CLOSED.
DETAILS
Kick-off will begin at 10AM EDT on Saturday, March 13, 2021, and the Closing Ceremony will begin by 3pm on Sunday, March 14, 2021

Teams will be judged at either the high school or college level

Teams are not required to follow a theme

Registration will close Thursday, March 11, 2021
ATTENDEES
This hackathon is a free event for high school and college students

Students under the age of 18 are required to submit a parental completed consent form with their registration

Every participant is required to submit a signed Code of Conduct

Students under the age of 18 are required to obtain a parent/guardian signature

The Code of Conduct will be sent to all registered participants prior to the event

Hardware and software hacks are welcome

In order to successfully participate in the Virtual Hyland Hackathon, students must have access to the following:

Internet

Laptop, desktop PC or Chromebook

Microphone or other audio equipment

If students don't have a microphone attached to their computer, they can connect to audio via phone.

If you don't have a team, you can indicate during the registration process that you need to be placed on a team
RULES
Only work created during the Hyland Hackathon is allowed to be included in your submission

Teams have full ownership of the projects created during the hackathon

Teams are limited to 4 people
If you have any questions before registering, please contact [email protected].