NJM Insurance Group
Insurer modernizes claims processes and enhances customer experience with Hyland's OnBase.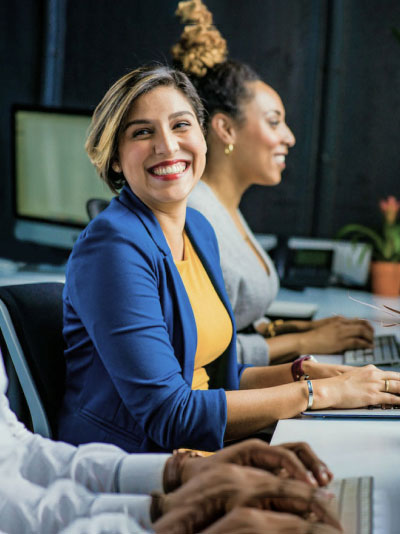 The challenge
In the 2000s, New Jersey Manufacturers Insurance Group (NJM), the largest writer of workers' compensation in New Jersey and among the top workers' compensation carriers in the U.S., was struggling with a legacy imaging system that wasn't integrated with their core claims system, Guidewire.
Unlike other types of claims, workers' compensation claims can involve injuries that last anywhere from days to a lifetime. Timely and secure access to all related information is critical. Missing or misfiled information can result in increased costs, displeased customers and prolonged recovery times.
Limited capabilities made workflow implementations a challenge, and heavy paper-based processes resulted in slower processing of claims, lengthy customer service transactions and constrained visibility into claims management.
To support their reputation for superior service and meet their expansion goals, NJM transformed operations with a modern, digital platform.
The solution
As part of their modernization strategy, the NJM team initially migrated over 30 million documents from their legacy system into Hyland's OnBase. NJM first integrated OnBase with Guidewire ClaimCenter to manage workers' compensation claims and associated documents like medical bills and reports.
The seamless integration with ClaimCenter improves the way NJM ingests and stores documentation. As soon as NJM receives information, such as doctors' reports and investigative material, it is placed in OnBase. Once captured, documents automatically link to related information within Guidewire, and can be easily found and used by NJM team members. Multiple users can simultaneously access files, resulting in the efficient review and prompt resolution of claims.
Workflows generate claims, medical or legal activities based on document type. From the ClaimCenter interface, automated notifications inform adjusters, medical case managers and legal that activities require completion or that documents related to their cases have arrived. These notifications assist staff with the timely resolution of the claims process, as well as prevent NJM from incurring penalties by missing regulatory deadlines.
Since the initial implementation, NJM has found opportunities to expand their use of OnBase across the enterprise.
"OnBase is integral to so much of what we do at NJM. It's used in virtually every business process, which speaks to a level of confidence and satisfaction in what we've been able to do with the solution," Enterprise Data Architect Devin Lesnever said.
NJM inputs roughly 17 million documents each year and now manages over 300 million in their OnBase solution.
With rapid growth and a continued emphasis on customer experience, the NJM team implemented a new customer service portal. Prospective customers can easily obtain a quote and set up a new policy. Existing customers have access to documents that are stored in OnBase, can submit a claim and update their account.
The foresight to modernize to a digital platform has paid off for NJM. They are now a regional insurance carrier writing personal lines in five states and commercial lines in six states. They have also transitioned to an independent agency model to support their growth in New Jersey and to drive awareness in other states.
"OnBase and Guidewire provide the foundation for us to compile data-driven analysis and models, which enables us to provide better care to the claimant, allowing them to recover and return to work faster."
- Harold Fink, Vice President of Claims Operations, NJM Insurance Group
The difference
Enhances customer experience: The OnBase and Guidewire integration greatly enhances customer service and satisfaction. Secure and immediate access to accurate information results in the prompt handling of questions and concerns. Inquiries that used to require multiple phone calls and several days can now be resolved within hours. And the customer service portal has been an excellent self-service tool.
Speeds claims processes: Concurrent access to documents allows multiple employees to review files and complete their individual tasks at the same time. Claims adjusters can capture and upload photos in the field and view documents already in the system through mobile devices.
Increases efficiency: Integrating OnBase with Guidewire saves claims staff significant time by leveraging correspondence, assigning tasks and sending notifications via Guidewire. Seamless access to documents in OnBase from within ClaimCenter increases the number of claims an adjuster can manage at once.

"Our ability to gain efficiencies in the overall claims process is a win-win for both the injured worker and employer," Fink said.


Delivers flexibility: OnBase allows tremendous flexibility for NJM's 2,300 users. The OnBase solution facilitates the ability to remotely access documents, as well as export documents to share with business partners to assist with claims and litigation. Document packets are easily created and tracked. Remote access to all documents was pivotal during the pandemic, when workers were home for a full year.
What's next
"Many products have come and gone, but OnBase has stayed and been a solid, reliable solution. It does what it's meant to do. And not to mention the great support that we get from Hyland and the forums," NJM System Administrator Dhwani Pandya said.
With a knowledgeable and dedicated team in place, NJM independently completed an OnBase upgrade to prepare for the future. They are also exploring new ways to leverage OnBase capabilities, including a retention tool that automates the secure retention and destruction of records.