Eight key trends that are shaping the retail banking industry
Here's how bankers can keep pace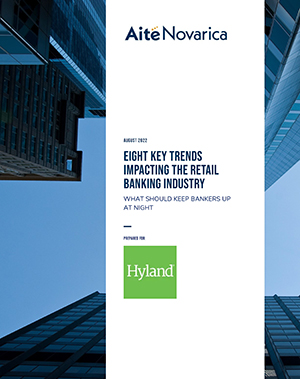 What keeps bankers up at night? Well, there's a lot.
Consumer expectations are rising. Change is coming from many directions. And the economy is entering uncharted waters.
This whitepaper from Aite-Novarica Group, Eight key trends impacting the retail banking industry, details why now is the time for organizations to invest and develop an actionable plan for digital transformation.
Discover:
How banks can respond to changes in consumer expectations
The crucial components in identifying partnerships that will bring best-in-class digital solutions to the table
Why the best tech stack wins
How firms can retool for what is coming next
And a lot more!
What's working today might not work for the long term. Change is accelerating.
Aite-Novarica Group's research details how retail banks can keep pace.