Managed Services
Gain increased value — and peace of mind — from your Hyland investment with proactive and predictable solution optimization and management.
Download the overview
Talk to an expert
Accelerating your digital transformation doesn't have to put a strain on your IT resources.

Whether you're struggling to hire in-house IT talent or your current team is spread thin, Hyland Managed Services provide you peace of mind that your solutions are expertly and securely managed to continually deliver the customer experience and ROI you need and expect.


A better way to manage your systems, applications and staff's time
You know your business best, and we know what tools and processes will ensure that your Hyland solutions get you and your people to where you need to be, now and in the future.
Let our experts cover management of your solution - at the service level that's right for you - so your employees can focus on more high-value, strategic work.

Is Hyland Managed Services right for your business?
If your business could benefit from any of the following services, the answer is yes.

Find a service level that aligns with your schedule,
requirements and budget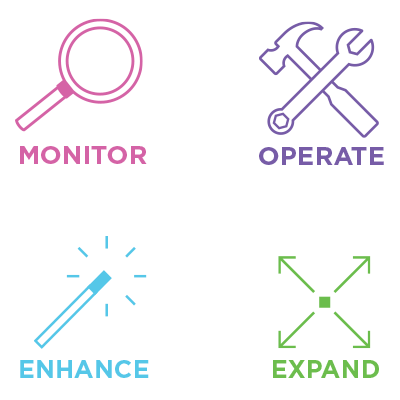 Our flexible, tiered system includes four Managed Service levels that provide predictable fixed operational costs with the ability to scale up or down as your business needs change. To provide your business with the biggest impact for the most value, we built these subscriptions modeled on ITIL Managed Services Practices, which includes application, incident, problem, change and release management.
Explore what's included in our four service level offerings:
On-demand expertise to meet your business' evolving needs
The Hyland team has industry-specific expertise and a wealth of experience overcoming unique departmental challenges. You'll be given a designated service delivery manager, who is an in-house Hyland employee — not a contractor. Discover the benefits of targeted expertise:
Need more information? Explore more resources.