How insurers can develop a future-ready digital transformation plan
A comprehensive strategy is critical for growth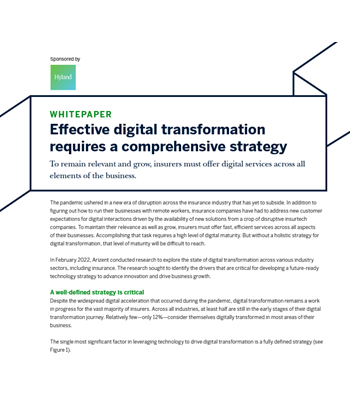 Remote workers. New customer expectations. Digital interactions driven by the availability of new solutions.
The pandemic has ushered in a new era of disruption for the insurance industry. And for the vast majority of insurers, digital transformation remains a work in progress.
This whitepaper, Effective digital transformation requires a comprehensive strategy, from Arizent and Hyland identifies the critical factors for developing a future-ready plan.
Topics included in the research from Arizent and Digital Insurance are:
How a well-defined strategy is crucial for growth
Why IT and business leaders need to be aligned
Why it's important to build a more holistic digital transformation framework
How flexibility makes companies more responsive and resilient
The whitepaper also explores the top three digital transformation priorities for insurers, as well as the primary barriers that are holding organizations back.
Is your organization poised to adapt quickly and successfully to a rapidly changing industry? This guide will help.
*By submitting this form you are opting into receiving emails from Hyland Software, Inc. Please view our privacy policy for further information.