Enhance clinical efficiency and quality of care with NilRead
Enterprise viewing is an important piece of Hyland Healthcare's commitment to deliver complete information within the applications you use every day. Our NilRead enterprise viewer is a true zero-footprint solution that provides anytime, anywhere image access and viewing to enhance your clinical efficiency and quality of care.
NilRead is a robust universal viewer for your entire enterprise. It can handle your most basic referential viewing needs as well as the advanced clinical visualisation needs of today's radiology departments. It all depends on how you configure the software. NilRead provides a single, flexible licensing model that allows you to configure the viewer by user, department, or site. This includes features that provide rich enterprise viewing of 2D image sets, post-processing tools such as MPR and 3D, as well as measurement tools and native collaboration features. The feature set can also be expanded to support a primary diagnostic solution with advanced visualisation tools for a full range of specialties, including radiology and ophthalmology.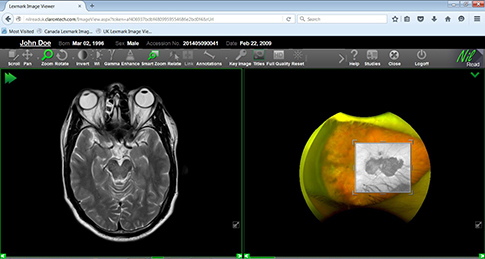 No more departmental silos
NilRead is a single, universal viewing solution that empowers physicians to view medical images and clinical content in any format across the enterprise.
With NilRead, referring physicians and diagnosticians work together without the constraints of departmental silos. Unlike viewers that require separate departmental logins, NilRead's approach is not confined to a single 'ology. Instead, clinicians can access and interact with images and reports for all patient images in a single view across the enterprise.
Anytime, anywhere access
Physicians and other hospital staff need access to images from any device, anytime. With NilRead, images can be viewed on any computer, primary reading station, tablet or mobile device. Convenience and individualised workflow is the result.
Zero-footprint technology
NilRead is a pure zero-footprint universal viewer with no software to install, or restrictions on browser use. Unlike competing products, NilRead does not require a plugin and can be deployed immediately, from anywhere, with little to no IT support.
Enhanced quality of care
Universal, enterprise-wide access to images and content, significantly enhances patient care. With NilRead's powerful collaboration tools, clinicians discuss and decide in real time, driving faster informed decisions and more precise treatment.
Gain full visibility and control over all your point-of-care images
NilRead enterprise viewer overview